Riad Roundup – July: Street Art & Geometry
This entry was posted on July 14, 2015 by maradmin.
A warm welcome to Maroque's latest Riad Roundup, home to fresh news about Moroccan interior design, art, culture and style. Each month we share some of our favourite and more inspiring stories from Morocco, from blogs to photography, to share a flavour of this beautifulcountry
This month, watch the capital Rabat transform as part of the annual Jidar Festival, held to celebrate public art. Read a story from a traveller entranced in a Marrakesh riad and find out how Morocco's art inspired two Argentinians to change their lives completely.
Capital Rabat Bedecked in Bold, Beautiful Street Art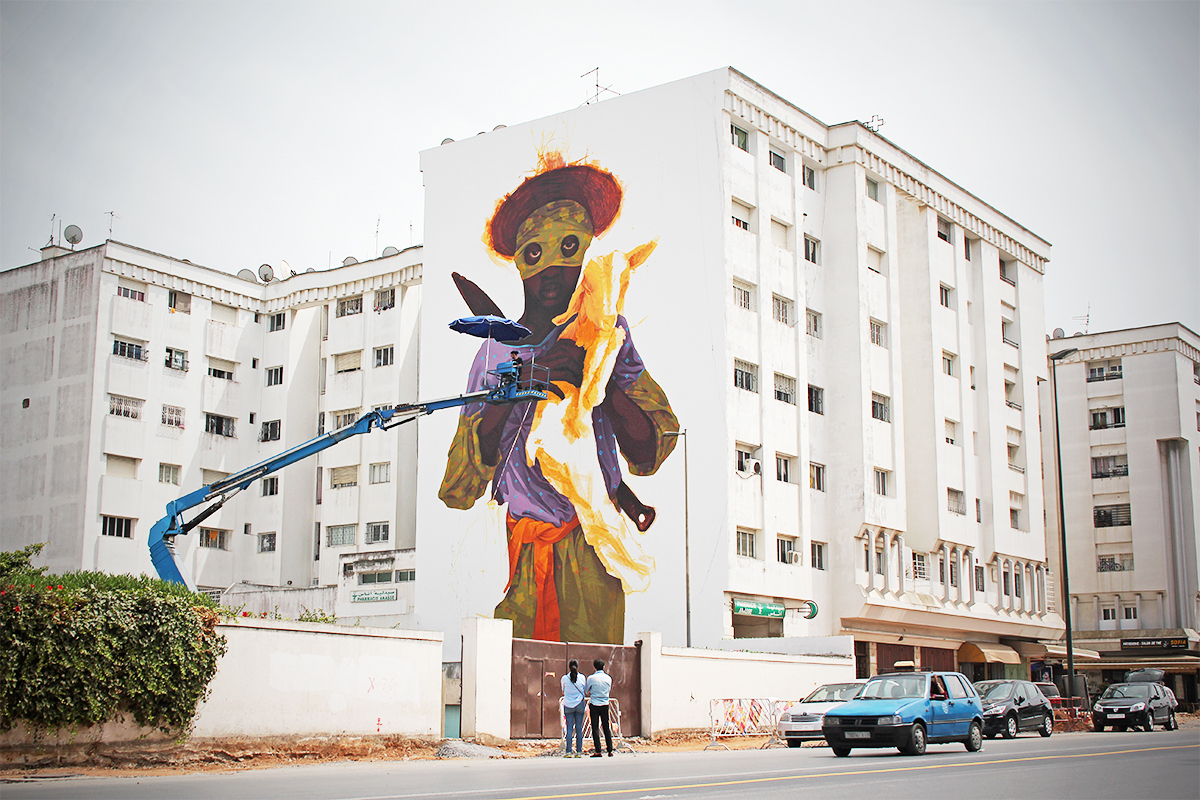 In many cultures, street art and its less-approved of cousin, graffiti, are frowned upon as vandalism. Not so in the Moroccan capital Rabat. Back in May the city opened its arms – and its bare walls – to artists from all over the globe as part of the Jidar Festival – an annual event held to celebrate public art.
The results are extraordinary. Huge, vibrant figures loom from tower blocks, bright, geometric patterns bedeck walls, beautiful, glittering abstract works gleam from billboards – the city was awash with colour and art. Get inspired by Rabat's Jidar Festival yourself in this recent blog post by Huffington Post correspondent Talia Lavin.
Step Through a Moroccan Riad Door
This is a beautiful tale from author Patricia Storace, documenting a stroll taken through a Marrakesh riad – and a mysterious door which reels her into a real change in circumstances. If you're bewitched by the romance of Morocco and its art, this is a fabulous tale, sure to inspire you and leave you hungry for fresh adventures in distant lands...Where could your Moroccan door take you?
Traditional Islamic Art with a Modern Twist
We're head over heels with this contemporary take on the traditional Islamic art visitors will see right across Morocco and the surrounding countries. The Molina brothers, a duo of Argentinian IT experts inspired by the geometry of Islamic art on their travels around Morocco, have created computer programmes to execute totally precise, totally mathematical patterns.
The brothers have moved to the UAE to continue their work, founding their business Nomad Inception, and have even created the world's biggest non-periodic geometric composition which abides by the strict rules of the art form – impressive and beautiful stuff. Get the whole story on the Gulf News website.
Do you love traditional Islamic art? What experiences have you had in Morocco's riads? Share your stories and your taste with other readers below. Moroccan décor online.